mannequin man
- 02/09/2017, published 02/09/2017 (updated 07/07/2023)
The Diving museum in Gosport played a prank on its visitors over the holiday weekend. They replaced their diving exhibit white mannequin with a real person with hilarious results.
This person was a living mannequin performer known as mannequin-man. The human mannequin performer had covered his entire face with white latex make-up to appear like the other mannequins in the museum.
He then sat in the same position for hours, coming alive and speaking to the visitors to their surprise and amazement.
Diver Exhibit Diving Museum Gosport
Diver Exhibit Diving Museum Gosport
Diver Exhibit Diving Museum Gosport
Diver Exhibit Diving Museum Gosport
Diver Exhibit Diving Museum Gosport
Diver Exhibit Diving Museum Gosport
Diver Exhibit Diving Museum Gosport
Diver Exhibit Diving Museum Gosport
Diver Exhibit Diving Museum Gosport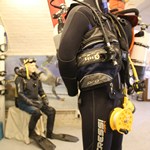 Diver Exhibit Diving Museum Gosport
Diver Exhibit Diving Museum Gosport
Diver Exhibit Diving Museum Gosport
Diver Exhibit Diving Museum Gosport
Diver Exhibit Diving Museum Gosport
Diver Exhibit Diving Museum Gosport
Diver Exhibit Diving Museum Gosport
Diver Exhibit Diving Museum Gosport
Diver Exhibit Diving Museum Gosport
Diver Exhibit Diving Museum Gosport
Diver Exhibit Diving Museum Gosport
Diver Exhibit Diving Museum Gosport
Diver Exhibit Diving Museum Gosport
Diver Exhibit Diving Museum Gosport
Diver Exhibit Diving Museum Gosport
Related Content